Hopefully you've thought about your traffic temperature and how your ads can relate specifically to your audience depending on their knowledge of your product or service.
Q: Once they click on the ad, what happens next?
A: Lead Magnet landing pages
The purpose of a Landing Page is to capture the details of your web traffic (usually Name & Email).
Doing this allows you to build a list of prospects that you can send marketing to in the future.
Not building an email list is one of the most problematic issues I fix for business owners.
They have traffic flowing through their site, but no way to follow up and sell them later.
Lead Magnets?
In the Sales Funnel Blueprint it details that the Lead Magnet or LM should help your potential customer solve a specific problem in exchange for their email.
They get valuable instant gratification and all they did was input their email.
Create More Landing Pages
The more landing pages you have, the more leads you're going to be able to attract in to your sales funnel to follow up with.
Research shows that websites with over 40 landing pages perform up to 55% better at generating customers than sites with 1-5 landing pages.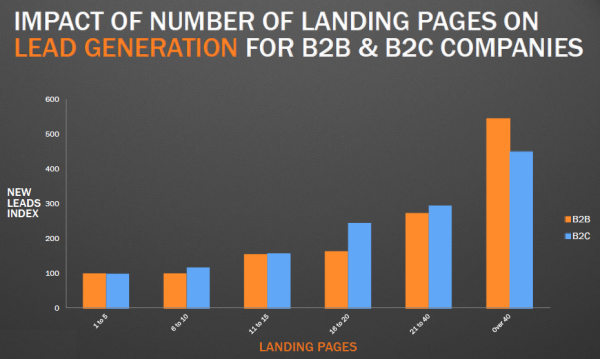 Lead Magnet Ideas
In order to create a wealth of Landing Pages, you're going to have to create some lead magnets.
Let's imagine a fitness coach wants more customers. The end result is having a client paying them a large amount monthly to get them in shape.
If they were to break off a tiny piece of the end result and offer that as a LM, their traffic will get free, valuable instant info that helps them on their journey to getting in shape.
For example. If the fitness coach had a specific exercise to help her main clients cut belly fat, she could use this as a LM.
Potential customers download this helpful info and join her email list.
She can then follow up with the potential customers with more tips and tricks and eventually lead them to a 1 on 1 session and then a full time client.
Product Splintering
The method of breaking off tiny pieces of the main end result is called product splintering.
People that download your LM are never going to be able to solve their entire problem, but it helps them solve a tiny piece of it for free and brings them in to your business.
What is your highest priced end result that your dream clients would pay you for?
What is a tiny piece of that product or service that you could break off and offer as a lead magnet to entice people in to your sales funnel.